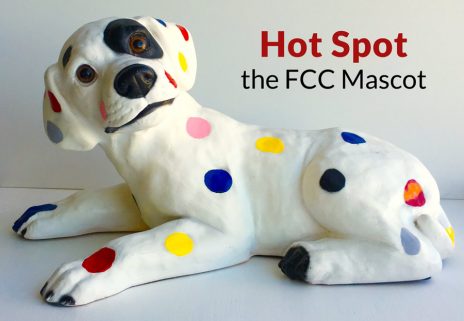 Happy New Year and welcome to the winter edition of FCC's quarterly newsletter. As reported in the fall issue, Firehouse Cultural Center has purchased a 1600 square foot building on land adjacent to our current property in Ruskin. We are happy to announce fundraising efforts are in full swing, and that the community is showing great support for this massive undertaking.
From The Observer News
Reporter Mitch Traphagen writes:
"The Firehouse Cultural Center in Ruskin has come a long ways since it took over an abandoned Hillsborough County fire station. If you haven't seen it lately, I would encourage a visit."
We who know and love the Firehouse Cultural Center are excited about our new acquisition and we hope all of our current members will spread the word. We encourage everyone to come to our shows, take our workshops, and enjoy the many programs for both kids and adults that we offer. Please invite others to join our ranks!
More GREAT news:  FCC is a FINALIST!!!
We are very pleased to announce that FCC is one of the six finalists in the 2018 WEDU-PBS Be More Awards, Be More Category! We are thrilled to receive such high praise for our 2017 Summer Camp "Imagine, Explore, Discover" program. Be sure to keep an eye out for information about our upcoming 2018 Summer Camp program which promises to be the best FCC camp for kids EVAH!!!!
Oh—and by the way—things are really happening here at FCC!!
Save the date for our GALA, March 3, 2018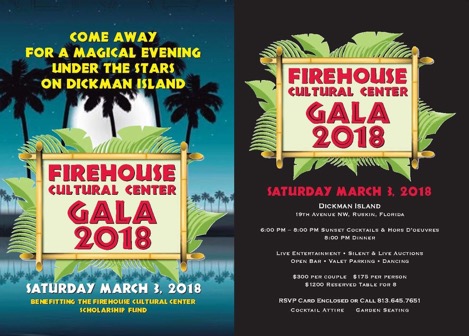 Last year's Gala was an amazing event, and this year we promise an equally fantastic time on Dickman Island with live entertainment, outrageous drinks, dining and dancing, a silent auction that will bring you to your knees, and more! Hope to see you there!!!!!
Space is limited! Register online or call 813-645-7651 to reserve now!
We hope you had fun over the holidays!! We sure did …
The year 2017 closed at the Firehouse with a dizzying array of events. Guests included everyone from Santa Claus to Opera Tampa to British Videographer Vivien Morgan to artists from Peru to the Pelican Players' funny and heartbreaking stage performance of Love Letters. Not to mention all of the music our Pub delivered! Musical magic from blues great T-Bone and the All Stars, songstress Valerie Gillespie and her Jazz Ensemble, Ken Loomer's Big Band, and James Suggs Quartet —to name just a few.
But now it's time to welcome the New Year …
See the complete information on this brand new program for kids: Children's Art Studio.
Beginning February, new fun and creative activities will be offered every Saturday morning from 10:00 a.m. until Noon. Instructors Dee Hood and Susan Fredericks will present activities ranging from how to create mobiles and kaleidoscopes to printmaking and more. This program begins on February 10 and runs through April 14. The weekly fee is $10/member ($15/non-member). Call our office at 813-645-7651 for information on special discounted pricing for more than one child.
Kids will love their regular Saturday mornings at the Firehouse Cultural Center, and parents will be happy, too! Creativity reigns!
See our Workshops & Classes page for more information on the Children's Art Studio and many other upcoming workshops, lectures, and programs. Here are just a few of the things we've got lined up for you!
Winter – Spring, 2018:
• Fiber Arts (starts Jan. 20)
• Painting: Session 1 (starts Jan. 17)
• Painting: Session 2 (starts March 7)
• Painting with Watercolors: Session 1 (starts Jan. 18)
• Painting with Watercolors: Session 2 (starts March 8)
• Plein Air Drawing & Painting (starts Jan. 10)
• Printmaking: Session 1 (starts Jan. 10)
• Printmaking: Session 2 (starts March 7)
• Children's Art Studio, grades 1 – 12 (starts Feb. 10)
• Leland Faulkner Teacher Workshop (Feb. 17)
• Patel Conservatory Musical Theater, grades 2 – 12 (starts March 19)
• Hydroponic Gardening (Saturdays)
• Figure Drawing Group for ages 18+, working from a live model. (Thursdays)
2nd Tuesdays, January – May 2018, 10:30 a.m. – 2:00 p.m. This FREE Straz Center Arts Education Series for adults will explore music written for the symphony orchestra; music from cultures around the world; and popular music genres developed in the U.S. from the early 20th Century.
Explore magic and myth. Learn new intriguing ways of presenting ideas and curriculum. Teachers earn Professional Development Points! Saturday 2/17 from 10:00 am – 2:00 pm.
So the Burning Question is: How can I support the Firehouse and donate to the Expansion Fund?
There are several ways to offer your gift: cash, check, or credit/debit card. The donation page also explains how to donate stock shares, should you so desire. And the expansion campaign page makes it easy to direct your donation to that fund. Here at the Firehouse we are all seriously "fired up" about this move forward, and we hope you will be, too!
We ask you to support the FCC Mission to offer quality programming to the community with a focus on the performing, visual, and literary arts, and education for all. We invite you to share the FCC Vision to provide a lively, multi-use, cultural and educational facility that will be a vital catalyst and resource contributing to the quality of life for all in our diverse community and region.
To keep up-to-date on all of the action at FCC, do be sure to CHECK our most important link, the link that will link you to all the other links, the MOTHER of all links: firehouseculturalcenter.org. You will see how much is going on right in Ruskin. There are links to all of the programs, all of the Pub events, information on venue rentals, how to become a member, how to volunteer, and more.
---
FCC Board of Directors
Bruce Marsh, President
Craig Hardesty, Vice-President
W. Thomas Grimm, Secretary
Robert Mohr, Treasurer
Janice Bayruns
Patricia Beckett
Laurie Burhop
Dolores Coe
Tom Cook
Sandra Council
Shawn Geitner *
Ann Hathaway
Jeff Knauff
Gabriel Mbulo
Ann Mohin
Lorrin Shepard
Hillsborough County Commissioner,
Sandra Murman (Ex Officio)
* Welcome to our newest Board Members.
Our Staff
Georgia Vahue, Executive Director
Frances Hereford, Volunteer Coordinator
Beth Ann Stein, Rental & Programming Coordinator
Rudy Ortiz, Facility Tech & Maintenance
http://firehouseculturalcenter.org/wp-content/uploads/2017/05/hot-spot_labeled.jpg
622
900
Firehouse Admin
http://firehouseculturalcenter.org/wp-content/uploads/2013/07/logo-firehouse2.png
Firehouse Admin
2018-01-27 13:00:08
2018-01-27 13:00:08
Hot Spot Quarterly Report - Winter 2018