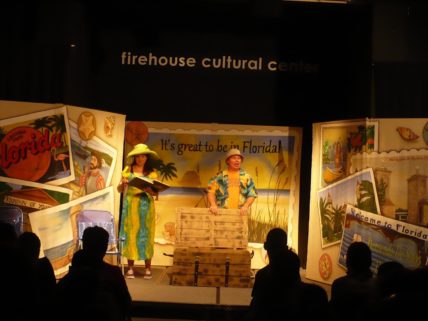 Firehouse Cultural Center presents educational field trip programs linked to curricula.
The FCC, is a renovated fire station with ADA compliant restrooms and an air-conditioned theater. A space for lunch is available if desired before heading back to school.
Upcoming Performances
02/08/2018

10:30 am – 11:30 am

Flight
Firehouse Cultural Center, 101 1st Ave NE, Ruskin FL


FLIGHT! combines creative staging, original music, audience participation, & multi-media elements into a theatrical production that explores the stories of flight including the Wright Brothers, Amelia Earhart, The US/Soviet "Space Race," & NASA's many accomplishments.

02/14/2018  – 02/15/2018

10:30 AM

Midnight Train: Harriet Tubman Conductor on the Underground Railroad
Firehouse Cultural Center, 101 1st Ave NE, Ruskin FL


Harriet Tubman is well known for her 19 trips down South along the secret route known as the Underground Railroad to save over 300 other Africans from the brutality of slavery. Mary portrays Harriet Tubman during her years as a slave, her journey to freedom and her endeavors to help others flee northward.