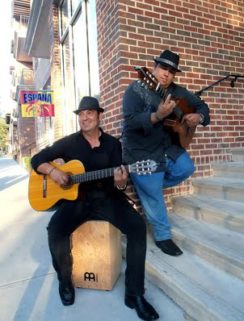 Saturday, April 7, 2018, 7:30 pm – 9:30 pm
Location: Firehouse Cultural Center
Event type: Firehouse Pub
Jose Velez and Luis Alfredo ( The Rumba Brothers) have been playing together for nearly 20 years. They began their long musical friendship as part of the Latin American Group Sol Latino, while still college students at UCF. Jose Velez is an excellent tenor and guitar player. He has a Music Degree from the University of Central Florida, where he won various scholarships and vocal competitions under the guidance of famous teacher Louis Roney.
The Rumba Brothers play a mixture of Italian, Mariachi, Caribbean Latin and Flamenco music.
Book your tickets now!
Space is limited. Reservations recommended.
Become a FCC Member and SAVE!
Firehouse Pub seating is communal, which means you may have other guests at your table. As a courtesy to the artists we recommend arriving no later than 30 minutes before show time. Cash bar & refreshments available. No outside food or beverages allowed.
Online booking is available up to 2 hours before showtime. After that, tickets may be purchased at the Firehouse, 813-645-7651. Reservations are made when tickets are purchased.
Ticket Prices:
Advanced:
$18 members
$23 non-members
Day of show:
$23 members
$28 non-members
Tickets are non-refundable.
Bookings
http://firehouseculturalcenter.org/wp-content/uploads/2016/07/jose20velez20and20luis20alfredo20latin20flamenco20music20duo.jpg
398
302
Firehouse Admin
http://firehouseculturalcenter.org/wp-content/uploads/2013/07/logo-firehouse2.png
Firehouse Admin
2016-10-28 12:14:02
2017-09-05 14:50:46
Rumba Brothers