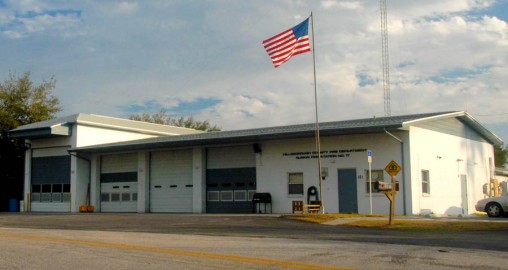 Wednesday, September 25, 2013, 10:00 am – 12:00 pm
Location: Firehouse Cultural Center
Event type: Special Events
Sandra Murman, Hillsborough County Commissioner, District 1, will join FCC Board Members and other elected officials to officially open the Firehouse Cultural Center. A reception, free and open to the public, will follow in the FCC theater. Business Sponsors and First Responders Founding Members will be recognized.
In 2010, the Ruskin Community Development Foundation petitioned the Hillsborough County Commission for the use a vacated firehouse as a community cultural center. After a $160,000+ renovation, limited programming started and continued on in to 2012. The Cultural Center building sits on two beautiful acres alongside Marsh Creek. ADA compliant facility includes a 200 seat black box theatre, classroom, storage, offices, a warming kitchen and a patio area. Building and property are leased to the FCC by Hillsborough County.
Summer, 2013, launched its first year of continual programming. FCC's 2013-2014 Schedule will include: Family Concert Music Series; Youth Orchestra; Firehouse Cabaret; Artists Workshops; theatre; special community events; and more.
The FCC provides diverse programs, classes, workshops, and performances in all the arts: performing, visual, and literary arts and in education for all ages. FCC aspires to become known throughout the Tampa Bay region as a venue for outstanding, innovative, and engaging programs. Its programs encourage participation, engagement, discovery and learning while offering connections to the unique history, culture and natural environment of the south region of Hillsborough County.
The Firehouse Cultural Center goal is to become the hub for community activities, to stimulate, support and encourage economic opportunity, thus contributing to SouthShore re-development.
http://firehouseculturalcenter.org/wp-content/uploads/2013/08/firestation_crop.jpg
478
900
Firehouse Admin
http://firehouseculturalcenter.org/wp-content/uploads/2013/07/logo-firehouse2.png
Firehouse Admin
2013-08-12 13:53:15
2013-08-12 14:04:32
Firehouse Ribbon Cutting