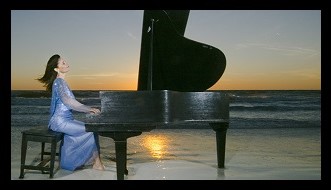 Saturday, December 2, 2017, 7:30 pm – 9:30 pm
Location: Firehouse Cultural Center
Event type: Firehouse Pub
Debby Bacon has been playing music since the age of six.
Debby Bacon will perform timeless holiday songs, just in time for the beginning of the holiday season. Some of the memorable songs we might know that Debbie will perform for us include "It's Beginning To Look A Lot Like Christmas" and "Have Yourself A Merry Little Christmas," along with classics such as Tchaikovsky's "Dance of the Sugar Plum Fairy." You can look at Debby Bacon's website for an itinerary of music that she will be performing.
Book your tickets now!
Space is limited. Reservations recommended.
Become a FCC Member and SAVE!
Firehouse Pub seating is communal, which means you may have other guests at your table. As a courtesy to the artists we recommend arriving no later than 30 minutes before show time. Cash bar & refreshments available. No outside food or beverages allowed.
Online booking is available up to 2 hours before showtime. After that, tickets may be purchased at the Firehouse, 813-645-7651. Reservations are made when tickets are purchased.
Ticket Prices:
Advanced:
$18 members
$23 non-members
Day of show:
$23 members
$28 non-members
Tickets are non-refundable.
Bookings
http://firehouseculturalcenter.org/wp-content/uploads/2013/07/11-19-Debby-Bacon-border.jpg
190
331
FireMarshal
http://firehouseculturalcenter.org/wp-content/uploads/2013/07/logo-firehouse2.png
FireMarshal
2017-07-31 12:02:33
2017-08-28 17:05:17
Debby Bacon "A Holiday Dream"