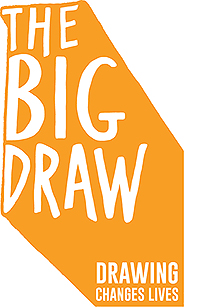 THE BIG DRAW invites everyone — all ages and all levels of artistic experience — to join in sponsored events using drawing to engage our minds and imaginations.
Discover drawing as a great learnable medium to explore, express, and observe — and try out new experiences in drawing. All Big Draw events are free.
The annual BIG DRAW-Ruskin began in 2008 to mark the 100th anniversary of Ruskin, Florida, as a community whose founders were influenced by the writings and philosophy of John Ruskin. It is inspired by and linked to the international Big Draw, first initiated in Great Britain to honor John Ruskin.
THE BIG DRAW-Ruskin celebrates the vision of John Ruskin who famously believed in drawing as a tool for understanding and knowledge and promoted the importance of the arts in education and community life.
Big Draw archives of events in previous years